Chinook RV News

Chinook RV celebrates "40 YEARS OF EXCELLENCE" at Louisville!
40 years is a long time to do anything After all, longevity is from which terms like wisdom, experience and quality come from. It was in 1961 that Gary Lukehart, with very little start up money, dove headfirst in to the recreational vehicle manufacturing business. Over the last 40 years, Chinook has becoming synonymous with quality and masterfully built motor homes and camper vans. In fact, Chinook products hold the highest re-sale value in the class C industry. To celebrate 40 years and all tile accomplishments (and some failures) we decided to make our corporate theme at this years Louisville show, "40 Years of Excellence". We dugout all of the old photos from years gone by and started a timeline for all the products Chinook has produced over the years. We then created a 40* anniversary logo and designed some beautiful signage for the display. But what really made the whole thing work was the introduction of the special edition "40 Anniversary" Chinook Concourse. We are happy to say that both the display theme and the special edition motor homes were a success.
---

February 2000
Chinook makes history once again by becoming the first motorhome to compete in the ALCAN 5000 Winter Rally.
How Did We Do?
Placed 16th out of 24 teams.
Won the Pirelli Sportsman Award.
Won the Dalton Class of the Rally.
Scored 5 perfect zeros in timed TSD's.
---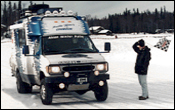 Team Chinook crosses the finish line in Anchorage.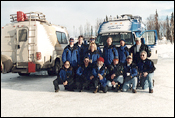 Team Chinook poses before setting off on day 3.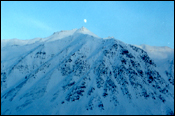 Amazing scenery abounds along the Alcan Highway
ANCHORAGE - On February 11, 2000, Chinook makes history once again. Already the world's fastest motorhome, now the company's new off road edition. Chinook becomes the first motorhome to compete in a winter rally.

The ALCAN Winter Rally started in Kirkland, Washington on February 11, 2000. The 4,600 mile northward trek took the teams through western Canada, through Alaska as far north as the Arctic Ocean at Prudoe Bay, then back down south ending in Anchorage on 2/19.

We have seen an increasing demand for more highly specialized off-road vehicles. So, playing a hunch, we took what is widely considered the best built class C motorhome in the industry, and put it on a highly developed Quigley four wheel drive system with heavy duty IPD suspension. The end result is one bullet proof, high performance motorhome, which is capable of going just about anywhere on the planet.

The companies objective with the ALCAN project is the same as with previous endeavors. To bring the best built and most exciting motorhome we can produce into the market place.

With a strong showing in the rally and a motorhome that surprised even the guys who built it, we believe our new off-road edition is a winner.
Proud Sponsors of Team Chinook Racing:
Quigley Motor Co
Composites One
Warn Industries
ASAP Fabrications
Les Schwab Tires
Dometic Corp
Banks Power
Alpine DVD Navigation
Day Wireless Systems
IPD Suspension
Mountain Supply of Yakima
Cummins Northwest/Onan
Generators
Ford Motor Co.
---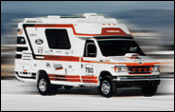 Speeding through the measued mile at 99.7 mph!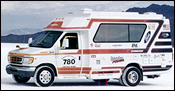 Team Chinook preparing to jump off the line.
August 1998
Trail Wagons Inc. of Yakima set the land speed record for motorhomes with the Chinook line of RVs called "the Sports Car of Motorhomes" at the Bonneville Salt Flats proving grounds in Utah.
BONNEVILLE SALT FLATS - On August 16, 1998 at 11a.m. a stock Chinook Motorhome, with only slight modifications, set a new land speed record (sanctioned by the Southern California Racing Association). The Chinook RV motorhome attained a speed of 99.706 mph in a density altitude of 5384 feet!
"We are extremely pleased with the results and we have learned a great deal from this project," said Trail Wagon's President, Dan Lukehart, who drove the Concourse during the speed runs. "With a cross wind of 15 mph, the Chinook proved very stable at 100 mph and that was what we wanted to prove: that a motorhome, if manufactured correctly, and on the right platform, can be extremely safe at any speed!"
---