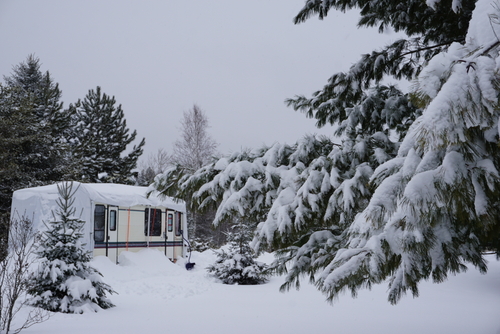 Fall and winter RV travel is often more demanding than hitting the road in the summer months. Travelers need to take extra precautions to stay safe on undesirable road conditions and keep cozy on cold winter nights. The following fall and winter RV supplies will help you enjoy the coldest travel season as much as the warmer ones.
Heavy Fabric Curtains
When you hit the road in the colder months, you'll probably be surprised by how drafty your RV feels. However, you don't have to spend a fortune to properly insulate your RV. Use heavy fabric curtains, or make your own, to keep the cold from coming in through doorways, windows and stairwells.
An RV Skirt
Many four-season RVs are equipped with insulated or even heated bays, but those who travel in less equipped RVs (which is far more common) should use an RV skirt to keep the tanks from freezing in consistently frigid temperatures. If you don't have a proper RV skirt, packing snow around your coach, up to the bays, can keep your RV insulated for months until the snow melts. Extreme freezes may require you to place an electric space heater under your coach until the ice-cold temperatures pass.
Heated Mattress Pad
Nobody wants to crawl into a freezing cold bed at night, and a heated mattress pad can easily solve that problem. Use the preheat function to warm your bed minutes before you hop in, and you'll look forward to going to bed each night. Keep your heated mattress pad on a low setting for an extended amount of time, and as the heat rises, your RV's bedroom will warm as well.
Prepare Your RV Today
Prepare your RV for your winter travels by shopping at Fretz RV. You can also contact the friendly and helpful team at Fretz RV in Souderton to find out about purchasing a new RV. We have an extensive range of new and used RVs available at our dealership, which is one of the largest in the tri-state area. You can rest assured that our knowledge and experience will help you to find an affordable RV that will suit all of your requirements for features, size, and style