Are you looking for a tough, versatile, easy-to-maneuver motorhome that can keep up with all your adventures? Don't miss the Storyteller Overland class B motorhomes for sale at Fretz RV! These great motorhomes offer three unique "Modes" so that you can find exactly what you need for your next trip. Learn more in this Storyteller Overland class B motorhome review. 
First, the Storyteller Overland Beast Mode 4×4 class B motorhome is one of the best for anyone who loves to find secluded camping locations.  The Beast Mode floorplan features two 45W solar panels and intelligent navigation to help you reach your destination.  You'll even find that the four-wheel-drive design will help you get in and out of the most difficult campsites.
Additional Features:
Beast MODE Custom Graphics
Full-Size Spare Tire
Portable Induction Cooktop
Exterior Fold-Down Table
Rugged Roof Rack
275/70/17 Tires
Another great option is the Storyteller Overland Stealth Mode 4×4 class B motorhomes.  The 3.0L V6 turbo diesel engine with 7-speed transmission will take you anywhere you want to go, and the 265/60R/18 tires make off-roading easy.  You can haul your favorite outdoor gear with the aluminum roof rack.
Additional Features:
Stealth Graphics Package
Hydrodipped Grill
Custom Emblems
Halo Shower System
Two Solar Panels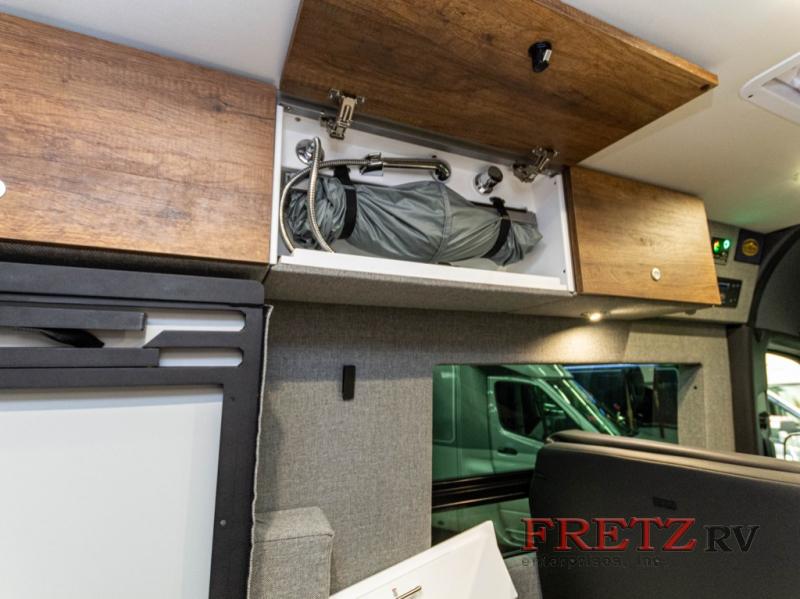 Another great design for anyone who loves to travel off-road is this Storyteller Overland Mode 4×4 class B diesel motorhome.  You'll love the low-profile AC unit that keeps you cool no matter how hot the days get.  The 150′ cubic storage makes it easy to bring along all your camping gear!
Additional Features:
Four-Wheel Drive
HALO FlexShower System
Sleeps Four
Lithium Power System
For more information about the Storyteller Overland motorhomes for sale at Fretz RV, contact us today!