Travel in style and luxury when you take home one of the Storyteller Overland class B diesel motorhomes for sale at Fretz RV.  These motorhomes are available in three outstanding MODEs that will give you everything you need to make the most of your camping experience.  Learn more in this Storyteller Overland class B motorhome review.
You'll finally be free to travel wherever you want with this compact, diesel motorhome that offers four-wheel-drive and 18″ off-road tires.  The 150 cu. ft. of storage space in the rear allows you to bring along your favorite outdoor accessories, and doubles as a spacious sleeping area at night.  The HALO FlexShower system provides a place to clean up after a day around the campground without having to hike to the bathhouse and back.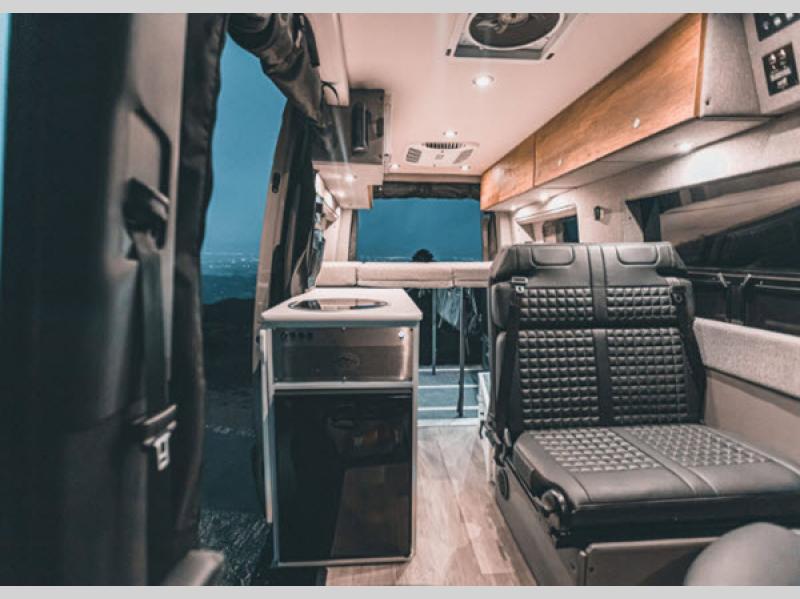 Go full-on Beast MODE with the Storyteller Overland Beast MODE 4×4 diesel class B motorhome at Fretz RV. This RV provides a rugged roof rack for transporting luggage, gear, or your outdoor toys.  You can easily haul kayaks, mountain bikes, and more on the roof, or use the space as a private star-gazing deck at the campground.  Additionally, the outdoor features include the custom Beast MODE graphics, an exterior fold-down table, and 275/70/17 tires.  You'll also find a full-sized spare tire in case your adventures get a little rough.
Another excellent option available at Fretz RV right now is the Storyteller Overland Stealth MODE with a custom Stealth graphics package.  This sleek pain design fades into the surroundings so that you can focus on the beauty of nature in your off-the-grid camping.  You'll find two solar panels to keep you powered up no matter where you go and 265/60R/18 tires to help you get there.  Additionally, the Hydrodipped grill is ideal for making delicious dinners every night.
Start living your best life by ordering a Storyteller Overland motorhome from Fretz RV!  These RVs are a hot item, so contact us today.