It happens from time to time, we need to reinvigorate our spaces. We do it in our traditional homes, why not our homes for the road? Space gets tired out and every now and then it's time to spruce up our surroundings. Here, we share some tips on how to liven up your bathroom aboard your RV.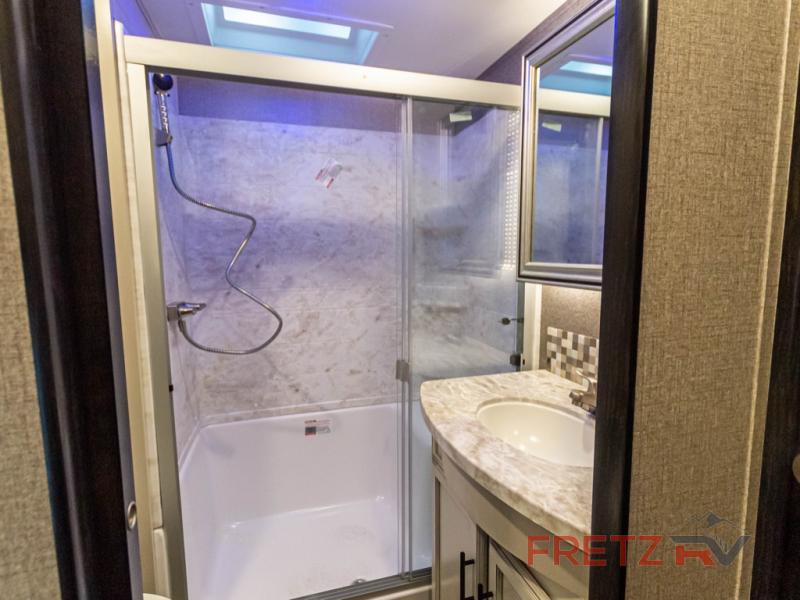 Shower/Bathtub 
Be careful if you are planning on renovating your shower/tub enclosure. You never want to remove the bathtub until you have its replacement ready to go. The size is extremely important here due to varying sizes of motorhome bathrooms. Measure several times if you are doing it yourself to ensure specifics are correct. Most times when replacing this unit, not only does the tub come out, but so do the walls surrounding it. Often, it is one piece all together so be prepared for all that is involved with this project. There are bathtubs that have built in shelves for additional space that includes a shower head. There are also shower enclosures with glass doors for standing room only. There are also bathtubs with a seat for those with difficulty getting in and out of the bath who need to be seated for bathing. What fits your RV lifestyle best? 
Sink/Counter 
If you want a warmer ambiance in your motorhome's bathroom, you might want to consider going to the dark side. No, we aren't speaking of Star Wars, we're talking about your furnishings. Take your cabinets for example; think cherry mahogany with matching wood rim around your mirror. If you want more counter space, think of upgrading your sink to a popular bowl type of setting that goes vertical. They are modern classy and add appeal to your space because of their unique quality. They range from stone to glass so there is bound to be one to fit your style. On the subject of sinks, there are a plethora of faucets to match any style sink you choose! 
These are just a few ideas to add life to your worn bathroom aboard your motorhome to embark on an RV bathroom reno. Have you done any major renovations to your bathroom? Let us know what you've done and share tips with us in the comments!