Now is your chance to order one of the Limited Edition National Park Foundation Travato class B motorhomes.  These exclusive motorohomes feature beautiful interiors, custom paint jobs, and more!  Find out what you'll love in this Limited Edition National Park Foundation Travato class B motorhome review.
Support the National Parks
Winnebago has partnered with the National Parks Foundation to produce this limited edition Travato!  For each unit sold, Winnebago has pledged to donate $250 to the Nation Parks Foundation to help improve and sustain our countries beautiful parks.
Features 
The Limited Edition National Parks Foundation Travato will be available in the KL and GL floorplans.  The KL floorplan, pictured below, will include a wet bath, twin beds with a flex-bed system that allows you to combine the twin into a larger single bed.  You'll also find a wardrobe in the rear and a kitchen near the front with a two-burner cooktop, pull-out extension, and a flip-out table!  Some additional features include:
Bike rack
Removable floor mat in the main living area
Rolef magnetic side screen door
11,600 watt hours of stored energy in a Larger Pure3 power pack
Front and rear Sumo springs
24″ HDTV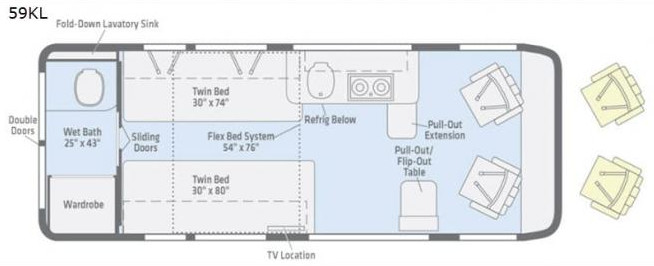 Limited Edition
Because these National Parks Foundations Travato motorhomes are limited edition, Winnebago is only producing 100 units!  That means that once they've sold all 100, they are gone!  So, if you want to own one you need to act fast, sales have already begun, so there are less than one hundred Travatos left to claim!  These special motorhomes will feature a custom, unique paint job, and the National Parks Foundation logo, so you'll really stand out wherever you go!
Contact us today to place an order for these limited edition motorhomes. Act fast, there are not many left to claim!