July 26, 2022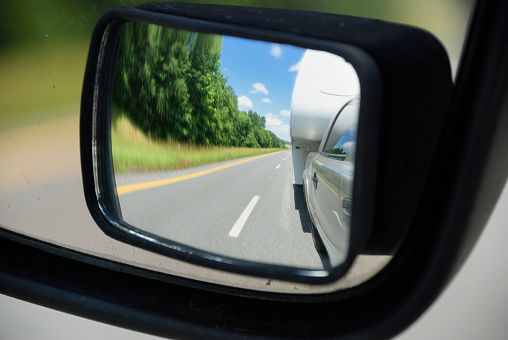 Woo Hoo! After months of anticipation, it's finally time to start the vacation you've been waiting for— traveling through the beautiful country in your RV! Your Fretz RV motorhome is fully equipped, fueled up, and just as excited to get a move on as you are. You are all set!

Except… you've never driven a motorhome before.

You might have some questions about driving and handling a vehicle as large as a motorhome. Compared to driving a car, driving a motorhome requires a bit more concentration and special attention…but don't be intimidated! Once you get a few miles in, you'll see that driving a motorhome is actually fun and easy!

Below are some before-you-go tips to make your first RV trip easy-peasy, safe, and awesome!

Size Matters…
If you don't know your RV's height, now is a great time to find out. Write it down on paper and keep it near the driver's seat. Class A motorhomes are typically tallest motorhomes with an average height of 13.5 inches (or 4.1 meters). That's just under the clearance range for most bridges. Be aware that air conditioning units and Wi-Fi antennas also need to be taken into consideration! Low bridges + tall motorhomes = a disaster!

In addition, you'll need to know the width of your RV. This detail is not as important or RV threatening; however, there are certain states where vehicles with a width over 102 inches are limited to highways.
Mirrors are Your New Best Friends!
Those mirrors are the eyes on the side of your RV's head— and you need 'em! In order to see the maximum amount of space on either side, make sure they are properly adjusted before you begin your trip.

You'll quickly realize that the blind spots in RV's are a lot larger than they are in a car. Remember that those side mirrors are your best friends. Regularly check those mirrors to make sure that no one crept into your blind spot if you have to make a lane switch.

Get Comfortable!
Before you take off, get into your captain's chair and get a good feel for it. It's a good idea to make seat adjustments before you start your trip. RV chairs can be adjusted in more ways than a traditional car seat— and for good reason. You're going to be there for a while! Take your time and make sure to find the perfect position. You can also make sure that everything you might need is in reach of your chair: the GPS, gum, mints, snacks, tissues, whatever you like to keep close!

Take a Confidence Course (if you want to!)
If you are still feeling unsure about hitting the road, you could consider taking an RV driving course. RV driving classes will provide you with the confidence you need to enjoy your RV lifestyle to the fullest.

Visit Fretz RV
Stop by Fretz RV to tour a new or used motorhome — Class A, Class B, or Class C — and find one that you can feel comfortable handling on your next road trip.