RVs have long been a popular choice for families and individuals looking to hit the open road and explore the great outdoors. But in recent years, a new type of RV has emerged that's specifically designed for adventure-seekers: the adventure RV van. These vans, like the Winnebago Revel, offer the convenience and comfort of traditional RVs, but with a focus on off-road capabilities and rugged durability.


One of the biggest appeals of adventure RV vans is their versatility. Unlike traditional RVs, which are often limited to paved roads and campgrounds, these vans can handle rough terrain and unpaved roads, allowing you to explore remote and off-the-beaten-path destinations. They're also equipped with features like high ground clearance, all-wheel drive, and off-road tires, making them ideal for exploring national parks, forest service roads, and other rugged wilderness areas.

Another benefit of adventure RV vans is their compact size. Unlike larger RVs, which can be difficult to maneuver and park, these vans are easy to drive and park in tight spaces, making them a great option for city dwellers or those looking to explore urban areas. They're also more fuel-efficient than larger RVs, which can save you money on gas and make them more environmentally friendly.

But just because they're smaller, it doesn't mean adventure RV vans sacrifice on comfort and amenities. Many models come equipped with features like full kitchens, bathrooms, and comfortable sleeping arrangements, making them perfect for long-term road trips. The Winnebago Revel, for example, features a versatile interior layout with a rear lounge that converts into a comfortable sleeping area, a well-appointed kitchen, and a wet bath.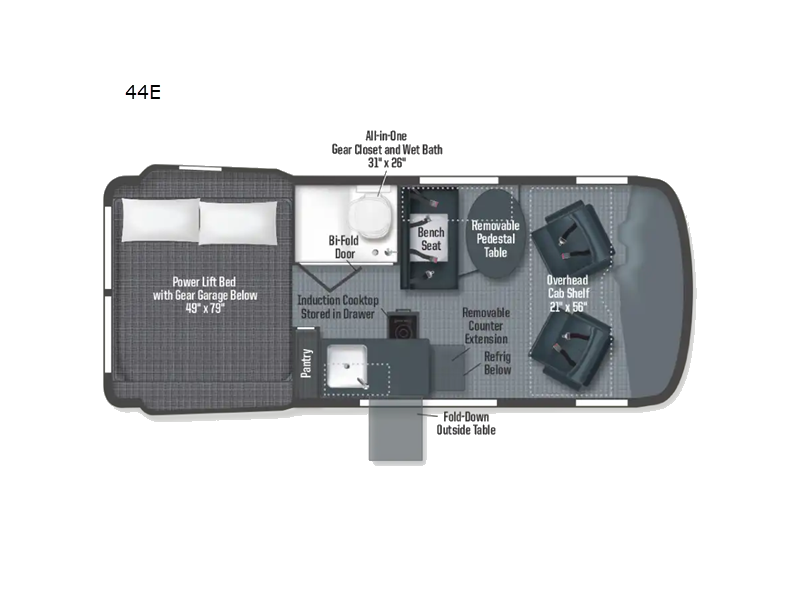 Overall, adventure RV vans like the Winnebago Revel are a great option for those looking to explore the great outdoors in style. With their off-road capabilities, compact size, and comfortable amenities, they offer the perfect balance of adventure and comfort. Whether you're a seasoned RVer or a first-time traveler, an adventure RV van is sure to provide you with a unique and memorable road trip experience.

Fretz RV carries some of the most popular Adventure Van brands in the industry. Choose from the Winnebago Revel, Storyteller MODE, Pleasure Way Rekon, and Jayco Terrain.