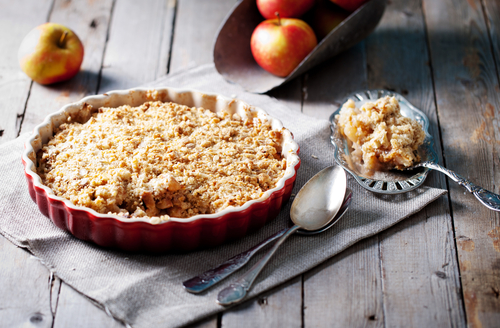 It's easy to get caught up in cooking the turkey and all of your family's favorite sides, but you should never forget about dessert. However, if dessert has already slipped your mind this Thanksgiving, this old-fashioned apple crisp recipe is guaranteed to steal the show.
Old Fashioned Apple Crisp
Nothing says "fall" like the taste of fresh apples. This mouthwatering recipe uses fresh McIntosh or Macoun apples to make a flavorful and sweet fall treat that will have your friends and family begging for the recipe.
What you'll need:
For the base:
5 pounds McIntosh or 

Macoun

 apples
Grated zest from 1 orange
Grated zest from 1 lemon
1/2 cup granulated sugar
2 tablespoons freshly-squeezed orange juice
1 teaspoon ground nutmeg
2 teaspoons ground cinnamon
For the topping:
1/2 pound cold, unsalted butter (diced)
1 cup oatmeal
1 1/2 cups flour
3/4 cup granulated sugar
1/2 teaspoon kosher salt
3/4 cup light brown sugar (packed)
Cooking instructions:
Preheat your oven to 350 degrees.
Butter a 9-inch by 14-inch by 2-inch oval baking dish.
Peel, core and slice the apples into large wedges.
Place the apples in a large bowl and combine them with the juices, sugar, spices and zests. Pour the entire combination in the baking dish.
For the topping, combine the sugars, flour, salt, cold butter and oatmeal in the bowl of an electric mixer. Use the paddle attachment to mix the ingredients together on low speed. Continue mixing until the mixture is crumbly.
Scatter the entire mixture on top of the apple base.
Place the baking pan on top of a sheet pan and bake it for about 1 hour or until the top has browned and the fruit is bubbly.
Serve warm with vanilla ice cream if desired.
Stop by Fretz RV
Contact the friendly and helpful team at Fretz RV in Souderton to find out about purchasing your new RV. We have an extensive range of new and used RVs available at our dealership, which is one of the largest in the tri-state area. You can rest assured that our knowledge and experience will help you to find an affordable RV that will suit all of your requirements for features, size, and style. Happy Thanksgiving!